I have since edited this entry and added pictures in case you have already read it without them! :)!!!

(Any pictures that aren't here will be added very soon! It takes forever to upload them to photobucket and add them to livejournal when one has this many pictures that need put up! It's hard to find time to do them all at once. A couple of the events only have one picture at the beginning.. there will be more added later on those. I atleast wanted to get one visual aide for them.)





Wow- this update is long overdue! I didn't realize how long it had been until I noticed that the last post had Halloween pictures in it! Sorry! So many things have happened since my last update all at once that I haven't had a chance to update at all!! Here are some MAJOR EVENTS THAT HAPPENED:
Brendan turned THREE!, I made another fabulous Thanksgiving dinner with all of the trimmings for the second year in a row, Kirsten walks and even talks now!!!, Christmas was great(!), Kirsten had her FIRST BIRTHDAY, and we had an awesome New Years!
Man! Lots of stuff! Now let me elaborate.

I'm still working at Holiday Inn and I really like it now. It was overwhelming to learn all of the night audit stuff at first but now that I've learned and mastered it, it's fairly easy.

Anyways,
---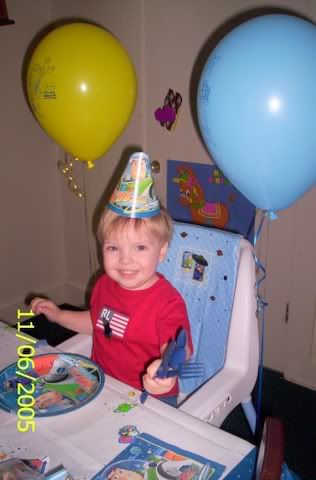 Brendans 3rd Birthday party - November 6th


His birthday party theme was Buzz Lightyear/ Toy Story and, as usual, I went all out on the decorations, balloons, and cake and whatnot. He got so many awesome gifts (his favorite probably his "Talkin' Toolbench") that when we considered the fact that Christmas would be coming up in a little over a month it seemed ridiculous! It's hard to distinguish which toys he got for his birthday since Christmas has since happened. He's such a big boy! He's pretty much completely potty-trained but still wearing pull-ups at night for the inevitable occasional accident. He's still such a big ham and has recently become obsessed with Chicken Little. We all went to see for his FIRST MOVIE EVER two days after his birthday and he could not believe how cool the theatre was. He was so well behaved and sat there and watched it the entire time. He also has a newfound love for Batman, Spiderman, and The Incredibles. He's such a joy to be around.. so intelligent and charming.. I love being his mother. He's always so eager to impress us and it's amazing how smart he is. He was so adorable during his party... the literal life of the party.

---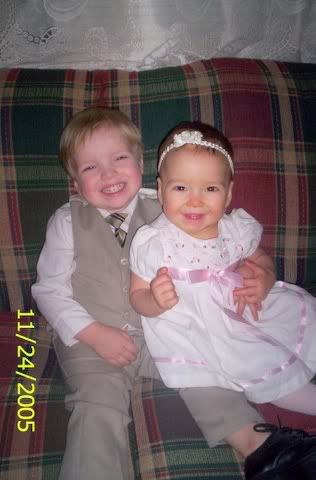 Thanksgiving
was awesome again. :) Seems so long ago now lol! I made a turkey, mashed potatos, gravy, grean beans, cranberry sauce, yams, corn on the cob, rolls, deviled eggs, salad, peas, 4 different kinds of pies, stuffing.. and so much more! All home made! Rob loves my cooking:) Starting last year we decided that we should start making our own Thanksgiving dinner instead of continuing to go to my Grandparents every year and I'm so glad we did! I really enjoy making Thanksgiving dinner!

---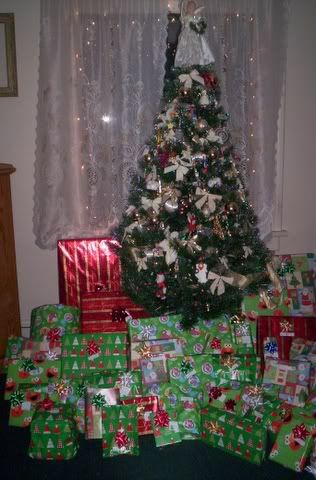 Christmas
This had to have been the best Christmas by far- bar none. The thing that really made this Christmas awesome was the fact that for the first time in a really long time I got the "Christmas is coming!" tingles. You remember the ones. The awesome feeling you used to get as Christmas was approaching as a kid....before you grow up and life takes it's toll on you and you become a grown up. Well, I think that this year really was special since this is the first year that Brendan really comprehended what Christmas is all about.. and also about Santa Claus and all of the fun projects we got to make really put it over the top. He "wrote" a Christmas list, pulled a day off of our home made "Christmas Countdown" every day, and even left milk and cookies out for santa on Christmas Eve amongst many other things. This was truely the first of probably very few Christmas' like this so I was really trying to treasure it. Kirsten LOVED Christmas and all of her gifts, but is of course too young to understand the anticipation and everything that goes along with the holidays. Brendan and Kirsten both really got SO MANY THINGS for Christmas this year. This was Kirsten's first Christmas and - since her birthday was five days away- she had never opened a present before! She was slow to get going but once she realized there were THINGS inside the strangely colored paper.. neat, FUN THINGS.. she really got going! Lets see, to name a few of their gifts, Brendan got a large talking Mr. Incredible doll, a giant, stuffed, talking spiderman doll, OH AWESOME- the Vtech Vsmile video game system made specifically for his age and we also got him an additional Elmo game to go with it! (Sidenote: he is SUCH a mini-gamer! He will sit right there on the couch along side Rob and coach him through playing his games! He's been playing computer games and even children's ps2 games for a while now but they were still a tad advanced for him. This was such a perfect gift!) He loves it so much and has really put it to good use. There is all kinds of shape and color recognition games within each game and its amazing how fast he picked it up! Luckily he knows his colors and shapes! He also got a big soft spiderman chair, new tools, a Talking Elmo doll that interacts with him and even says "Brendan"! (You hook it up to the computer and program it.. it is so neat!) an awesome Step 2 stove with oven and sink with dishwasher and a ton of dishes and play food!, an awesome Hot Wheels race track, a giant remote controlled truck, and so many other great things! It feels like I'm forgetting so much of it! They have so many toys--I am going to have to go through all of them and pack up boxes for the GoodWill! Kirsten got a ton of awesome gifts as well... let's see.. a beautiful princess ride-on toy, a soft fluffy Dora the Explorer chair, a Vtech learning birdhouse ball, an awesome Fisher Price laugh and learn phone (that is an accessory to an AMAZING present we got her for her birthday which I will mention in a moment), (Geeze! Since her birthday JUST happened it's hard for me to distinguish which toys she got for Christmas and which she got for her birthday! lol I'm sure you don't care. You're probably not even still reading lol. Oh well this is for my own use, anyways.) She got her first pair of awesome baby dolls that have a lifetime replacement guarantee, isn't that strange? Anyways they're really cute and she has since starting saying "BAY-BEE!" She is starting to really talk well and pick up words! So far she can say "Da-da, Ma-ma, Baby, Hi, What dat?, and Benan!" She's growing up too fast and walks everywhere now! She started taking steps when she was 10 1/2 months old, but within the last month has really started walking EVERYWHERE! And! Just in the past week she has starting going from a crawl to a stand without even pulling up on anything! It's so amazing to see her get so big!
Anyways back to the gifts! Fine, instead of racking my brain to divide which toys were given for what some of the GREAT THINGS she has gotten for both Christmas and her First Birthday( in addition to what was listed above) are:
a ton of Baby Einstein toys- toy bar, hard flash cards, pop up toy, singing lizard doll from the shows, a new dvd, and more and they're all awesome! I love Baby Einstein! What else? Oh, set of adorable Little Mommy dolls (yes more dolls!), another doll that laughs, an adorable super cuddly stuffed piggy, pink toy boxes, an elmo play bar/piano thing, an instrument station, FISHER PRICE LAUGH AND LEARNING HOME! (SHE LOVES THIS! AND SO DO I! AND SO DOES BRENDAN, ACTUALLY! lol.. it's SO neat! I think I'm living vicariously through my babies! Who cares! That was her big awesome present! The one I mentioned that the phone went to! It is so neat! It has a working "porch light" all kind of activities, a door bell and so much more!) She also got leapstart learning gym, fisher price's laugh and learn table, a leapfrog piano, Oh! We also got her the ocean wonders crib aquarium... she loves it so much! She outgrew her ocean wonders baby bouncer a long time ago but still loves to play with the swimming fishies and bubbles so this was perfect for her! She got a rocking horse from my dad and his wife that makes galloping noises and sings while its mouth moves... she is deathly afraid of it! Anyways, they got so much more stuff... i mean we went ALL OUT.. but I just can't think of everything right now! Oh! I got rob an awesome super expensive homemedics back massager chair! He is in love with this thing. This isn't just your run of the mill massage chair.. this doesn't vibrate-- there are several big steel balls that rotate all up and down your back and it seriously feels like you're getting a massage! I also got him Resident Evil 4, a woodburner kit and accesories, a new sweater and dress slacks, a really sharp Pulsar watch, a new dvd player and other things but this post is getting crazy long! I got an awesome leather pinked strapped Kenneth Cole Reaction watch, and oh! an amazing all in one printer/scanner/copier/digital camera port printer! It is awesome!! Our old printer was a peice of junk! I also got a countertop skillet, a new hairdryer, picture paper for the printer and much more! Christmas was phenominal!
---
Kirsten's 1st Birthday- December 30th!

She has grown up to be such a big girl and we are so proud of her.. it feels as though this year has passed in the blink of an eye. I, of course, went all out with her decorations and everything and she was given the first birthday small-cake-right-of-passage(and got so messy.. which is a given, obviously!) Not a lot of people showed up and I anticipated that happening due to the holidays. I was really dissapointed at that fact because I have a feeling that as she gets older she is going to really feel hurt that people can take time out to go to Brendan's party, but not hers since it happens to be right after Christmas and a day before New Years Eve. We went out of our way to seperate her birthday from the holidays and I even took down all of the Christmas decorations. I think it's only fair that she get her very own special day. Her birthday was done in the very girly pink Hugs and Stitches 1st birthday pattern.
We appreciated that atleast SOME people showed up but it still hurt that others still haven't given me a reason to why they didn't. I'm not talking friend guests, I'm talking immediate family member guests who should have been there. If you go to one go to the other. If it's about a gift because of the holidays, FORGET the gift.. i'd rather YOU be there. It was a blast, nonetheless and my precious daughter is now a year old.
.



( MANY MORE 1ST BIRTHDAY PICTURES BEHIND THE CUT...CLICK HERE!!!!!!!!Collapse )

---

New Years Eve was awesome. It was the first time I have drank in exactly two years. Gotta Go!



Real life quote of the day:

"Will Vitamins make me big and strong?" -Asked Brendan
"They sure will." "That's right, honey." -Simultaniously Replied both Rob and I.
*Brendans eyes light up*
"Will I have HAIRS ON MY BELLY LIKE DADDY?!"
-Asks Brendan adorably